Nantes is a carrot, famous for its especial sweetness and crisp texture.
In the 1850's, Henri Vilmorin developed the Nantes carrot. It is named after the city of Nantes, the largest city in Brittany, France.
In 1885, Henri Vilmorin first described the Nantes carrot as having a near perfect cylindrical root with smooth skin and entirely edible near-red flesh, both sweet and mild in flavor.
Geography
Edit
Carrots originated over 5000 years ago in present-day Afghanistan. They were first seen as purple roots, but later evolved into orange, red, white and yellow.
The eastern, original, carrots are typically purple or yellow. The western carrots are the most famous ones, being orange, red and white.
Nantes can easily be identified as a western type.

Description
Edit
Nantes carrots are usually cylindrical and blunt and range in size from 15 to 23 cm.
Nantes is known for being very sweet and crispy.
Applications
Edit
Being very sweet, Nantes is ideal for snacks or salads.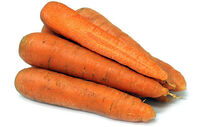 Variations
Edit
There is several different variations of Nantes.
Early Nantes has a lower maturity rate than the original Nantes, and is used for early crops.
Scarlet Nantes is another variation of Nantes, which is slightly sweeter than the original.
Nantes Half Long is a longer variation of Nantes.
Carrots
Western Carrots

TBA

Eastern Carrots

TBA
Community content is available under
CC-BY-SA
unless otherwise noted.